Discover more from Your Favorite Prof
A deep dive into the world of Marcia Chatelain; it's filled with musings about french fries and the human condition, analyses of race and culture, and reflections on learning with students. Eclectic, but I make it make sense.
Over 1,000 subscribers
Dear Class,
On this Martin Luther King, Jr. holiday, I'm sure you have read a plethora of hot, bubbling takes on King's legacy. King was a radical. King was a believer in economic justice. King was a contemplative soul, who understood the importance of rest (that one is from me). King deserves more than the tweets from people he would have likely found objectionable if he was with us today. I have very little to offer among the incredibly thoughtful perspectives on MLK's legacy. But, I have videos! An original tribute to Dr. King plus an interview with his longtime assistant, Dora McDonald!
This content, from McDonald's, set me on the path to ask: Why did I learn more about Black history at my local McDonald's than at my elementary and high schools? Honestly, in 1986, when I first saw these, I probably didn't ask such a sophisticated question. It took years for me to realize that the then very new federal holiday was still a contentious issue in the United States in the late 1980s, and I think that McDonald's showing their support for the MLK holiday was one crucial step in the acceptance (and the depoliticization) of the holiday. More than 30 years have passed since I first watched these Dr. King tributes, and the inclusion of African-American history has come a long way since then. But, on the same day that the King holiday turned 36 (the actual legislation was passed in 1983, with 1986 as the first official observance), the governor of Virginia initiated his term with an executive order that fulfilled his campaign position of anti-critical race theory schools. (Big sigh and feelings of irritation).
This swing in the culture war pendulum may yield another generation of children whose first encounters with Black history from McDonald's commercials rather than lessons at schools. Let's hope that Dr. King was right, and the arc of the moral universe will bend toward justice.
---
Save the Date:
1/24, 7-8 EST, Virtual Screening and Panel Discussion, PBS's "Preserving Democracy" documentary
1/29, 11 a.m. EST, The Joy Keys Show, Franchise: The Golden Arches in Black America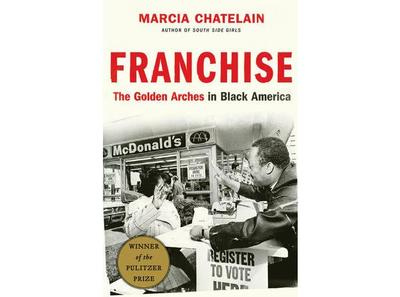 ow.ly
Joy Keys chats with Dr. Marcia Chatelain about her book Franchise
Dr. Chatelain is currently a Professor of History and African American Studies at Georgetown University in Washington, D.C. Previously, I was a Reach for Excellence Assistant Professor of Honors and African American Studies at the University of Oklahoma in Norman. She is a proud native of Chicago, I…